My family and I have been visiting Yellowstone National Park consecutively for the last three years as it never fails to give us the break we deserve nor does its beauty and wildlife disappoint.
Contrary to popular belief, Yellowstone being located on a volcanic hotspot doesn't make this destination uncomfortably hot. We visited in the height of summer (in July) where temperatures sat comfortably at around 24 degrees celsius and humidity levels are low.
We stayed for approximately ten days at the east entrance in Pahaska Teepe resort which provided us with average accommodation in an old cabin which had little impact on our fantastic time at Yellowstone due to being out and exploring from dusk 'til dawn.  I was a little disappointed with catering options and the food available on previous visits to the park therefore ensured I had packed enough of my own foods – the food provided on the park is also, in my opinion, a little overpriced for the quality. However, a dining experience at the Old Faithful Inn was one of the highlights of our most recent trip – I highly recommend.
I would recommend downloading the NPS Yellowstone National Park app in the App Store to assist you in navigating your way around the park due to limited or no mobile phone service. The park itself is thriving with wildlife which you can see all year round including elk, moose, wolves, and even bears and we were lucky enough to spot all four making us feel completely at one with nature – these are sites you will see nowhere else. The boardwalks can be a little over populated by tourists so we opted for walking these later in the evenings.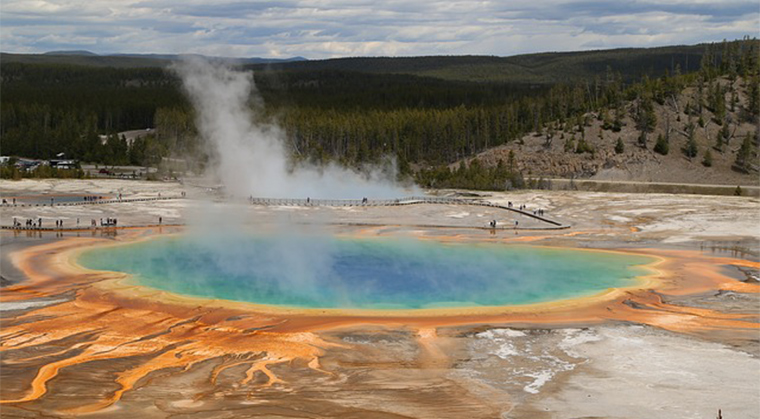 The Grand Prismatic Spring is a must-see on this trip – it is the largest hot spring in the United States and, as a natural formation, left me utterly speechless. The colours belong in a painting and the heat coming from the spring was surprising. The following day we visited Mammoth Hot Springs which I can say was not necessarily my favourite part of the trip but it is worth visiting to see the huge numbers of elk gathered in this location. The trip was also slightly ruined by other tourists attempting to approach the elk despite clear warning signs not to – fellow tourists are really the only downfall of Yellowstone if they do not respect the nature.
Other locations I recommend visiting include the Grand Canyon of Yellowstone and The Norris Geyser Basin which I suggest seeing in the evenings when the paths are quieter – the scenery is incredibly picturesque and I doubt you'll witness beauty quite like it anywhere else.
Despite the carelessness of other tourists and the average accommodation, Yellowstone National Park is a once in a life time trip I recommend to anyone who enjoys nature and adventure. I can't wait to head back again this year.
Yellowstone National Park, Wyoming