When thinking of a quintessential English country village, distinct images come to mind. Rolling hills, quaint cottages, and tidy village squares. In the Cotswolds, these images are a reality. Covering almost 800 square miles, they are characterised by its idyllic countryside. Interspersed with gorgeous little settlements just begging to be explored. Across 5 counties, honey-coloured stone, lively markets, and stunning natural beauty give the Cotswolds an enviable reputation. This abundance of splendour makes narrowing down where to visit rather difficult. That's why we've compiled a few of the best villages in the Cotswolds to visit. So if you find yourself in Southern England, take a detour and see some of these lovely little pockets.
Here some of the best villages in the Cotswolds you should definitely check out…
---
Bampton
The village of Bampton in Oxfordshire is first up on our list, with much acclaim following it. Cute cottages flanked by ivy growing on either side, narrow country streets, and friendly pubs make Bampton a haven for visitors. But that's not all.
It may seem familiar to many people who visit. That's because it played host to the filming of Downton Abbey! The St Mary's Church, the old Grammar School building, and other village landmarks have all been featured on the hit show. Bampton is truly a worldwide spot, famous for its picturesque façade. While here, why not take a tour of some of these on-location areas. You may see something you recognise!
If you feel yourself getting peckish during your visit, the Horseshoe pub provides delicious Sunday roasts. Along with other pub classics. Watch the world go by from the comfort of this cosy pub, while tucking in to delicious food and drink.
Castle Combe
Often named as 'England's prettiest village' Castle Combe is truly one of the best villages in the Cotswolds.
Lying in north-west Wiltshire, this village has also been attractive to filmed productions. War Horse and The Wolf Man being the most well-known. Yet, it isn't just the media interest that makes the village a marvel. Since the 16th century, no new buildings have been constructed. This means that all of Castle Combe is authentic; untouched by time. This gives us an insight into the history of the English countryside, and how people would have lived there.
Some landmarks to be explored include St Andrews Church and a Market Cross. The former housing a faceless clock, reputedly the oldest working clock in the country. Strolling along through the village towards the bridge, you'll be able to purchase homemade goods, food, and drink from local shops. Yummy cakes, jams, and sweets are all to be enjoyed here.
The calming babbling brook flows through Castle Combe, navigating past houses and shops closely. This gives the area a real old-timey, picture-postcard feel. Avid photographers, take note!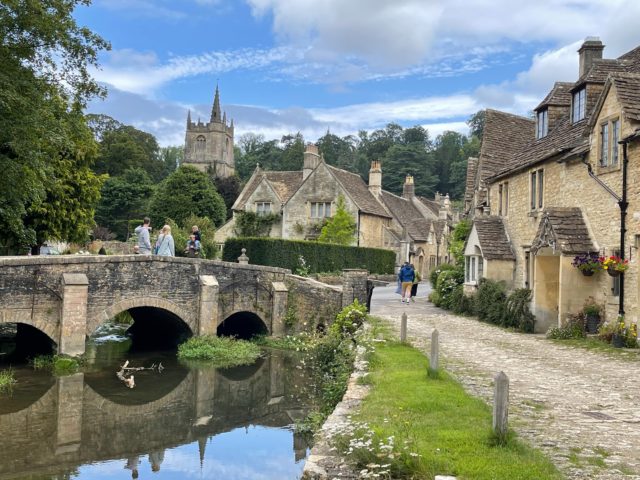 Bibury
Another village on our list known as one of the prettiest in England is Bibury. Though only small, this collection of houses, shops, and pubs all have a charming, alluring quality.
Home to the famed 'Arlington Row' of cottages, Bibury's photo opportunities make it a must-see for visitors in the Cotswolds. Their carefully crafted stone cottages have even been featured in UK passports! A short walk through should get you acquainted with the village landmarks. Bibury Trout Farm and St Mary's Church to name a couple. Surrounded by the fresh air and greenery, you begin to forget the trials of modern life. You'll slow down, and appreciate the small things.
To carry on this slowed-down approach, a visit to The Catherine Wheel pub may be in order. This inviting public house is truly breath-taking. Real 15th century timber ship beams are fully exposed, giving a truly vintage feel. Various prints, photographs, and a blazing fire in winter all make The Catherine Wheel a home-away-from-home. All this christens Bibury as one of the best villages in the Cotswolds.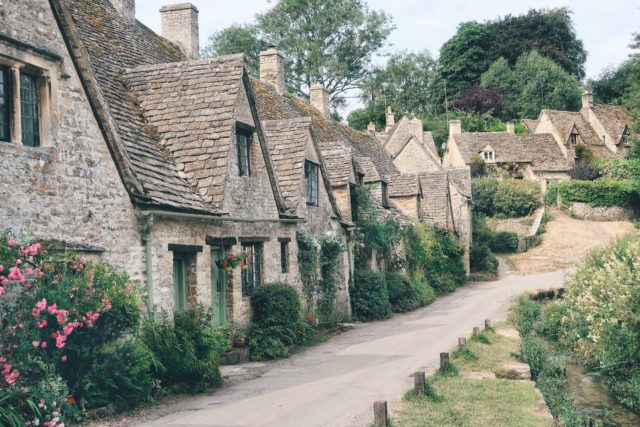 Broadway
At the heart of the Cotswolds lies the peaceful dwelling of Broadway. As one of the largest Cotswold villages, there is plenty to keep everyone busy.
At the base of the Worcestershire hills, Broadway combines natural landscapes, historic curiosity, and rich culture. This brings tourists from near and far. Limestone buildings under the shade of horse chestnut trees, with neatly lined lawns, give a relaxed and calming atmosphere. Unique attractions, fashionable retail, and delectable cuisine make Broadway an indulgent, and one of the best villages in the Cotswolds.
The local icon, Broadway Tower, is a great vantage point for 360 views across the jaw-dropping area of beauty. Here, workshops, e-bikes and planned lunches can be enjoyed under the perfect Cotswolds backdrop. A historic site, the Tower also hides a nuclear bunker in its midst. As I said, an interesting combination of the past, and modern sensibilities. What better way to spend your trip than a visit here?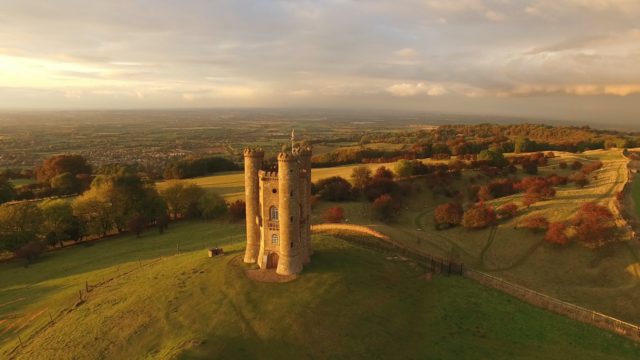 Kingham
Last up on our list is the secluded Cotswolds village of Kingham.
Beside wide open green spaces, rows of chocolate box houses contribute to the unspoilt charm of the village. A Norman church tucked away behind ancient weathered trees makes Kingham beautifully atmospheric. Of course, the mesmerising streets of the village give the place its magnetism. But, its the food that really takes the cake here. Making it one of the best villages in the Cotswolds.
The local pub – The Plough, operates under a Heston Blumenthal graduate, reinventing classic dishes for a new age. After a long day of wandering around the area, The Plough is perfect for a refuel.
For another memorable dining experience in Kingham, the Wild Rabbit should be taken into consideration. With its Michelin starred chef churning out culinary masterpieces, the local ingredients used ensure a relaxed, unstuffy setting.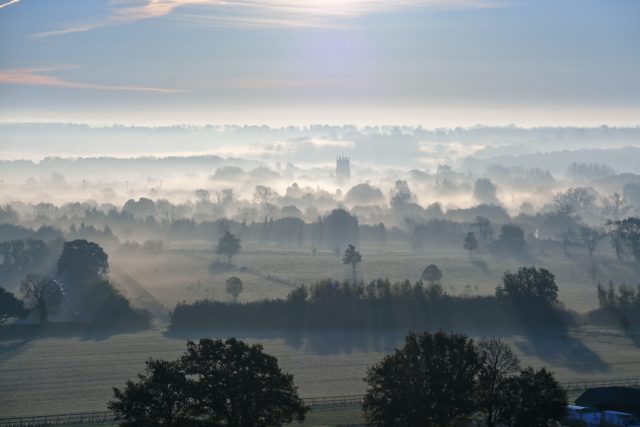 ---
An Area of Outstanding Beauty
The Cotswolds have, for a long time, been known as Britain's favourite countryside escape. With charm, elegance, and refinement, the villages here are sure to convince you why. From the isolated settlements where peace and quiet are the bywords. To hubs for culinary delight, the Cotswolds are a true area of outstanding beauty. Of course, the expanses of meadows and hills contribute to its fame. But the people, and where they live, are the ones that keep people coming back.
Why not join the droves of tourists, and explore England's heart and soul…