One of the most popular coastal retreats Wales has to offer is Tenby, nestled on the country's south-east coast. This gorgeous little harbour town has much to offer visitors. From its stunning beaches, to its colourful and picturesque buildings, Tenby is a quintessential seaside town. Not to mention the attractions, like water sports and laser questing. Often times however, these little seaside towns fall short when it comes to accommodation. This is not the case here. Tenby hotels are renowned for their hospitality, with many having up-close views of the beaches. There are many different places to stay to choose from, with each being particularly geared towards certain people. Bespoke seems to be the byword for Tenby, Wales hotels. So, you'll definitely find somewhere for you here.
Here are some of the best Tenby, Wales hotels to pick from…
---
The Imperial Hotel, Tenby, Wales
Built into the ancient stone walls of the town, the Imperial Hotel looks right over South Beach for unmatched views of the seascape. A relaxing, comfortable stay awaits you here. The Terrace Restaurant and ocean view rooms mean here, you're taking advantage of all Tenby has to offer.
The Imperial Hotels positioning is one of its best features. Right on the doorstep of the very best of Pembrokeshire. Cobbled streets, stone walls, shops, restaurants, and cafés are all just a stones-throw away.
Their single, twin and double rooms are the ideal place to unwind in, with all the creature comforts you'd expect at home. Each room has its own en-suite, tea and coffee station, flatscreen TV and Wi-Fi. So no worries if the weather isn't beach-worthy, there's plenty to keep you entertained here.
Breakfast and dinner are served everyday. Delicious dishes from all cuisine make for mouth-watering meals, all delicately prepared by their wonderful chefs.
The Imperial Hotels 'Winter Escape' package offers nights away starting at £95.00 per night, with a free food and drink voucher included in the price. So no need to break the bank for an enjoyable stay in one of the Tenby Hotels.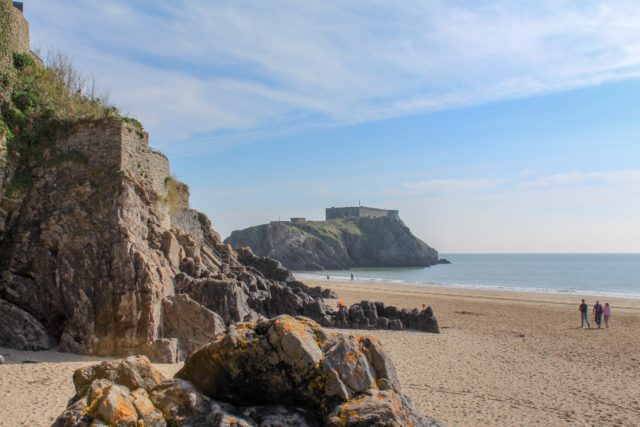 Heywood Spa Hotel, Tenby, Wales
Tenby is a chilled, serene town. A great place to take a breather from regular life. Similarly, Tenby hotels take full advantage of tourists relaxation. Perhaps none more than Heywood Spa Hotel.
Heywood Spa Hotel is a luxury getaway lovers dream, where even just the classic single, twin or double rooms feel lavish. Tall ceilings and hand-crafted windows make for a gorgeously bespoke escape. Executive and superior suites are even more opulent, with private patios and balcony's to-boot. All rooms have an en-suite, TV, Wi-Fi and minifridge. Plus, in-room pre-arrival extras can be purchased during booking.
If you thought it was just the rooms that would blow you away, think again! The Spa is perfect for those needing a little rejuvenation after a busy Tenby seaside day. From massages and facials, to reiki and body scrubs. A trip to the Spa could be the self-care haven you need.
Food is served throughout the day, with their afternoon tea sounding particularly delectable! But steaks and other perfectly grilled treats aren't to be passed up either. Children's menus are also available upon request.
For a stay in one of the best Tenby hotels, you're looking at prices from £117.00 per night for a classic twin room. What better way to celebrate an anniversary or birthday?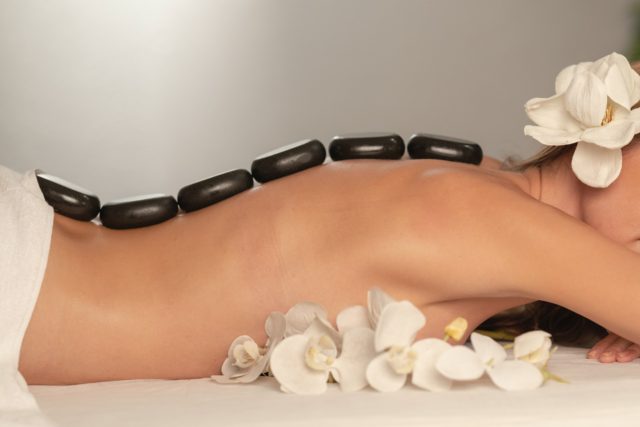 Lexden Terrace, Tenby, Wales
The previous Tenby hotels we've featured are beautiful. Ideal for those who enjoy a more structured escape. Though you may be thinking, what if I fancied a more casual, independent stay in Tenby, Wales. Don't worry! Lexden Terrace has you covered.
Lexden Terrace is a self-catering holiday rental, and is truly stunning. This beautifully presented mansion house isn't the most cost-effective, but it's worth it. With its own private access to the beach, Lexden Terrace has much to offer.
Sleeping up to 12 guests at a time, this rental is great for those in a large group. With its own fully equipped kitchen, the Terrace is in prime position for cooking up a storm. Decorated rooms, panoramic Castle Beach views, and a private lawn make Lexden a home-away-from-home in Tenby. You can even bring a dog along for the fun with you!
Staying here, you'll be in close proximity to the best restaurants, attractions and views the town has on offer. For a tailored, self-catered holiday, it doesn't get much better than this.
Prices vary, and may seem steep, but lets not forget this rental can have 12 guests at a time. Meaning the price can be split between people. Per night, you're looking at prices from around £1,800. This is only £150 each, for an entire mansion. Not too extreme for one of the best Tenby, Wales hotels.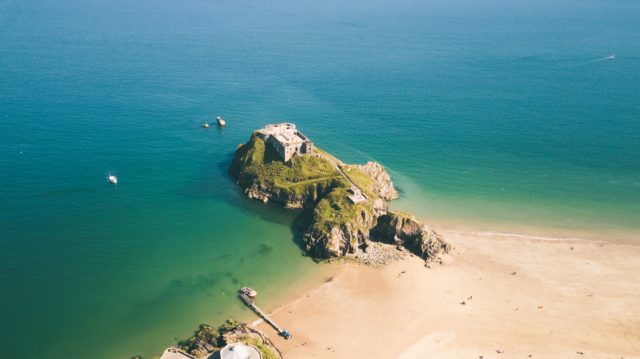 Florence Springs Glamping Village
Next up on our list is another one for the free spirits. Though, it won't break the bank like the previous mention may have done.
Glamping at Florence Springs is a quaint and homey affair. Choose from a yurt, hobbit house, tree house, or safari tent. Either one you choose, an enjoyable stay awaits. Their luxury yurts sleep up to 4 people, and come kitted out with a wood burning hot tub, bed, futon, cushions and lamb skins. This casts a comfortable and cosy ambience over the scene. All other quirky spots to stay contain these home comforts, so don't worry if your choice isn't available!
Surrounding yourself with the peaceful nature around here is a wonderful break from the humdrum of city life. The activities available at Florence Springs matches this blend with nature. Two private on-site fishing lakes are just begging to be used, you can even use their rods which they provide! That's if you don't have your own of course. These lakes are surrounded by the Springs' own golf course, which is free to use also.
Each glamping room costs just over £600 for a weeks stay, a reasonable sum for a unique, nature filled escape. This is truly one of the most interesting Tenby hotels.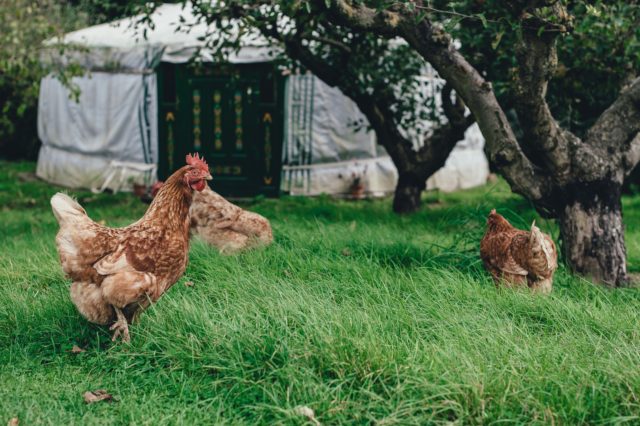 Willow @ Headland Escape, Lydstep
Though the last place on our list sits just outside of Tenby, it would be a real shame not to mention it. Willow is a unique shepherds hut, lying in the middle of idyllic open fields of greenery. A remote way to escape to the countryside.
The small-but-mighty hut contains everything you may need and more. With a full kitchen and bathroom, the basic essentials are more than lived up to. But this is not all, the double bed with an opening window at its foot means beautiful views are open to you from the moment you wake up. Plush chairs are gathered around the hut's wood burning stove, keeping you cosy and warm. Also, an outside hot tub means you can embrace the nature surrounding you, while relaxing your muscles and winding down.
The remoteness of the hut means you'll feel truly alone, meaning a romantic getaway could be on the cards here. The lack of light pollutions also means that stars shine bright, with many more visible to the naked eye than usual in a town or city. Gorgeous nature walks and curious natural wonders surround the place, so there's plenty to keep you amused during your stay. Tenby is also just a quick drive away, so no need to worry about finding somewhere to stock up on essentials.
Willow @ Headland Escape costs around £150 per night, with variety depending on when and how long you stay. Book in advance though! This hut is highly popular.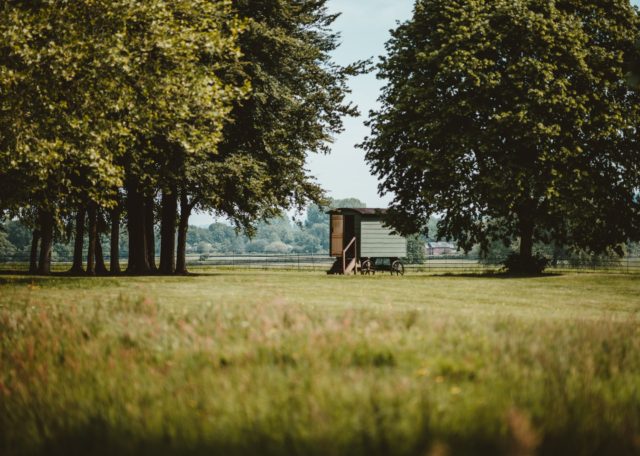 ---
So Many Tenby Hotels to Choose From
The sheer range of accommodation available in Tenby means there is something for everyone. Whether you prefer a traditional, structured holiday with meals and spa treatments. Or, if you like having free range to cook and explore on your own terms. Tenby is an escape for all. For somewhere to take a load off, relax and detach from real life, just briefly, Tenby may be the perfect seaside holiday to do so.
So, take advantage of the bespoke places to stay, and get on over to Tenby, Wales.