Last month, myself and a several friends decided to visit the Hard Rock Cafe in London for dinner. Upon arrival, the place seemed busy and slightly overcrowded, but once seated, the atmosphere felt relaxed and the decor was sublime. It was unusually small compared to what I expected, but we were still seated in no time.
Iconic items from the music industry littered the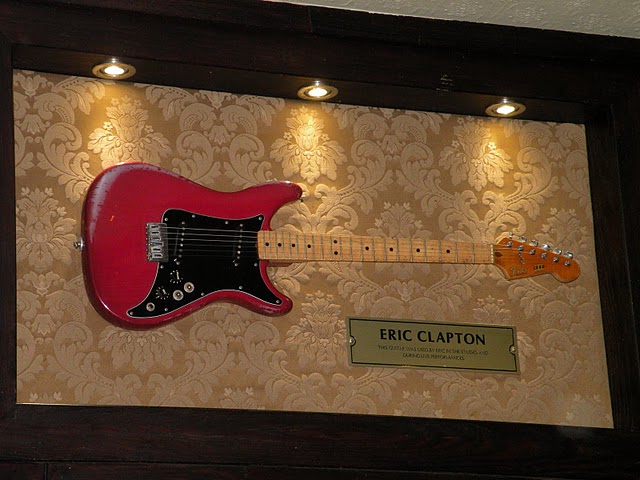 walls and ceilings, and the vintage decor made the place seem oddly homely… Imagine walking into a rich man's cave of musical goods he's collected over the last 50 odd years or so. A particular favourite of mine was Eric Clapton's Red Fender Lead II guitar. There were also items belonging to John Lennon, Jimi Hendrix, and the king himself, Elvis Presley. I have visited many cafes and restaurants that charge far too much for average food purely because you are dining around memorabilia, but that wasn't the case with Hard Rock. The food was outstanding; tasty, great portion sizes, and you pay for what you get. Many portions were so large, we ended up sharing our plates around the table. I certainly recommend ordering the brownie dessert as a sharer… it's a monster!
Service, of course, was fantastic – each waiter with their own unique and punky appearance which only added to the retro ornamentation. We were every waiter's worst nightmare; a huge party of 12 who suffered with food allergies and wanted to split the bill, but the waiter remained consistent, smiley, and incredibly helpful. Whilst many would normally question a service charge of 12.5%, I was completely fine with paying this and even tipped the waiter on top for his charming personality. For a large main, dessert, two cocktails, and a glass of wine, I paid a respectable £60 which I believe is completely worth it.
I will definitely be returning to Hard Rock Cafe soon, and I am hoping to bring my children along; it was completely child friendly and would make for a fantastic family night out.
Hard Rock Cafe, London
Reasonably priced
Large portions
Fantastic memorabilia
Great service