In the UK, camping is a national pastime. Depending on where you are, there are many different spots ideal for pitching up a tent, and getting back to nature. One of the most popular areas for avid campers is the Peak District National Park. Covering an area over 550 square-miles, the District has no shortage of scenic spots for camping. Though, it isn't just the landscapes that draw in the crowds. Friendly, picturesque villages and fun activities also make the Peak District a holiday haven. Some of the best spots for camping in the Peak District are just a short trip away from these, making it ideal for tourists. So, for a staycation adventure, the Peak District beckons.
Here are some of the best spots for camping in the Peak District for getting back to nature…
---
Edale
With the highest point in the District residing in Edale, there's no wonder visitors are drawn from all over the country to witness the fantastic landscapes. So, camping has become somewhat of an institution here.
Surrounded by dramatically tall hills and crags, Edale lies in a stunningly lush valley. Campsites such as Newfold and Fieldhead have taken advantage of this, allowing for year-round camping in the Peak District. Using one of these as your home-base in the area would be ideal to really explore Edale fully. Babbling streams, dense forests and miles of open fields make Edale one of the best spots for camping in the Peak District. Great for getting back to nature. Various pubs and inns in the villages and hamlets offer real ale, and good home cooked pub classics. So, no need to worry too much about cooking your own food. Though, it isn't just the landscapes or village fun keeping people amused…
Hang gliders and para-gliders can often be seen soaring above the steep hills. If you've always wanted to feel what its like to fly, now's your chance. Derbyshire Soaring Club runs guided sites at Mam Tor, Lords Seat and Rushup Edge. So, no need for any prior experience. Simply get a quick lesson from one of their guides, strap in, and fly!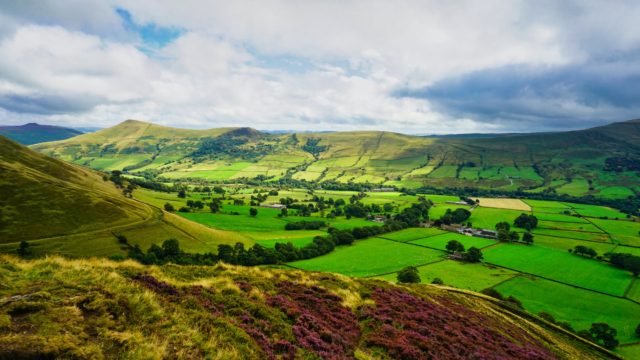 ---
Dovedale
Known for the steady River Dove and impressive limestone ravines, Dovedale is one of the most famous and best spots for camping in the Peak District. For good reason!
Rolling hills, picture postcard views, and a plethora of recreational activities. Here, getting back to nature has never been so easy. Hiking is one of the best ways to see the area, with the Thorpe Cloud formation being one of the most popular landmarks to do so. An unusual limestone hill, Thorpe Cloud juts out of the ocean of green grass. Taking a trek up the mammoth structure offers unimpeded, panoramic views across multiple counties! There are many other hiking routes throughout the Dovedale area, all begging to be explored.
The most iconic Dovedale spot would definitely be the stepping stones over the Rive Dove. Take your own 'The Beatles at Abbey Road' picture, striding across the stepping stones like a zebra crossing! A great memento for camping in the Peak District.
Campsites like Smithy Field and Mount Pleasant make good use of their placement in this famed area of beauty. With amenities like showers and electricity available, you won't stray too far away from your home comforts. Yet, embracing the nature here is hard to resist.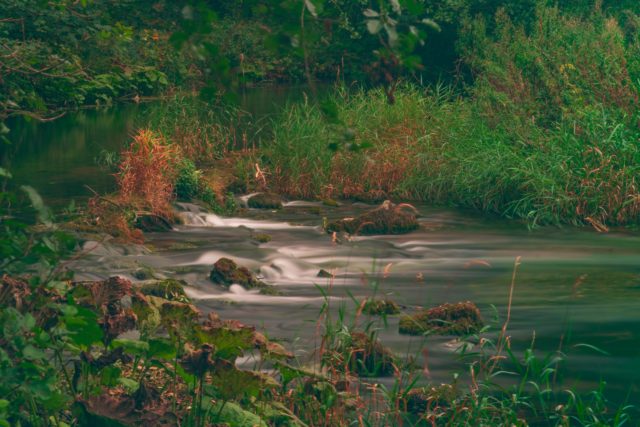 ---
Crowden
As the northernmost settlement in Derbyshire, Crowden lies in Glossop, just off of the famous Snake Pass scenic road. Here, you'll once again be treated to breath-taking views of classic English countryside, earning its place as one of the best spots for camping in the Peak District.
The campsite at Crowden is the perfect jump-off point to further explore the northern tip of the Peak District. Just a stones throw away from great hiking paths, the charming campsite is conveniently placed just outside the main town. So, picking up provisions shouldn't be too much of an issue. From the site, hikers can enjoy gentle strolls, or strides over the long-distance Pennine Way. Either way, enjoying the landscape here is easy, but is just the tip of the iceberg.
Should you be into fishing, or just boating in general, the nearby Ladybower Reservoir has you covered. Surrounded by pine forests, the Reservoir looks as if its been pulled from a Swiss travel book. Steep gorges and ravines give the location an imposing, yet gorgeous vista. To explore further, Ladybower Fisheries hires out regular fishing boats, and float tube fishing boats. This is recommended to truly immerse yourself in the area, great for those getting back to nature. So for a unique trip onto Ladybowers waters, this would be perfect.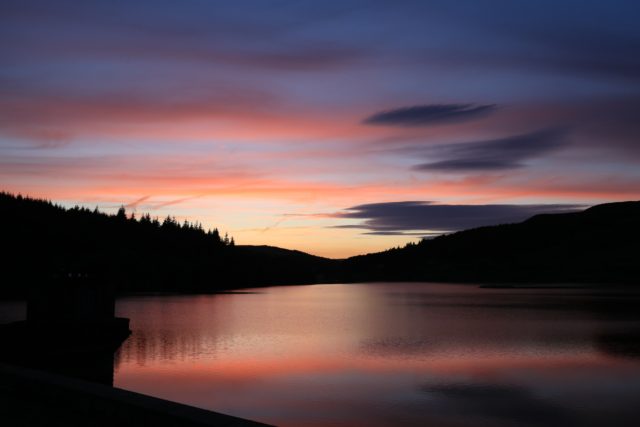 ---
Chapel-en-le-Frith Glamping
The previously mentioned spots for camping in the Peak District are all best for tents. Which, for many, is less-than-ideal. For whatever reason that may be, they just aren't accessible for everyone. This is why glamping could be the best solution. In Chapel-en-le-Frith, they have taken care of things.
The luxury off-grid glamping yurt is great for still getting back to nature, without having to rough-it. It includes luxuries like a kitchen, fireplace, seating area and real bed. Plus, on-site bathrooms allow you to clean off after a busy day.
The yurt is located in the High Peak, one of the best spots for camping in the Peak District, so there's plenty to do to keep everyone entertained. Nearby attractions such as Combs Reservoir are sure to be a fun day out, no matter who's joining your camping trip. The Old Cell Ale Bar is another spot to check out in the area, with a unique history behind it. Nowadays it's a micropub; but the jail cell in the cellar tells a rather different story! Definitely worth a visit!
---
Camping in the Peak District : A Staycation Hotspot
Not surprisingly, many across the country have been enchanted by all camping in the Peak District has to offer. Great campsites, unique and quirky activities, under the breathtaking backdrop of stretching meadows. What's not to love? Once you've visited once, it can be hard to resist the temptation to come back.
Why not join the masses? Visit the charming heart of England.