As the days get colder, and the nights grow longer, many of us are craving a break. An escape from the normal way-of-things. Even just for a short while. America's vast lands have many warmer, less seasonal spots for holidaymakers. But often times, embracing the cold in a new location can be just what we need. To begin to appreciate our own winters more. Moab, Utah in winter is truly dazzling. With red rock, blue skies, and sometimes even snow, natural beauty is never far away here. For adventure lovers or avid photographers, this city is a true haven.
Let's dive into some of what Moab, Utah in winter has to offer…
---
Packing for Moab
In Southern Utah, winter temperatures are often similar to what we're used to in the UK. Ranging from around 15°c at their highest, and -8°c at their lowest. Because of this, packing for a Moab winter is basically just the same as an outdoor winter trip here. Make sure you've got the basics:
Comfortable shoes for hiking
Winter socks
Warm, thick winter coat. Preferably also waterproof.
Plenty of under-layers
Waterproof trousers
Thermal leggings
Hat, scarf, and gloves
Hiking pole
Moab is also a hotspot for camping. Which means extra provisions will need to be made for a night under the stars. Ensure you've packed:
A decent all-season or winter tent
Low-temperature sleeping bags
Provisions for a roaring fire (check at the local rangers station for any specific fire regulations)
Food and water for the night
After making sure you've got everything set up, its time to set off on your adventure. Moab, Utah in Winter is a treasure trove for outdoor pursuits, and stunning views. As you're about to find out.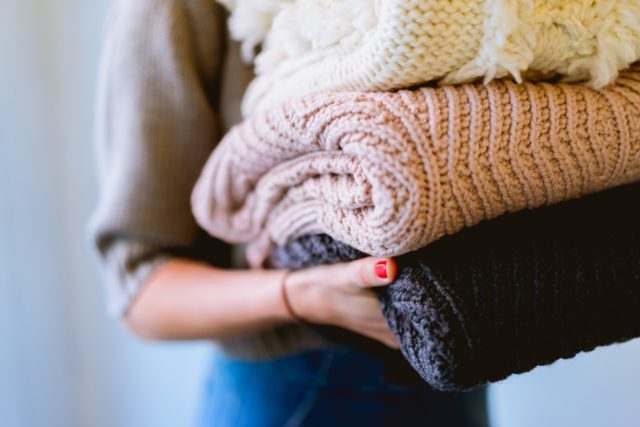 ---
Arches National Park
With world-famous natural landmarks, and desolate stretches of sandstone formations, Arches National Park is an unforgettable getaway. Sitting just outside Moab, the National Park is known for its striking red stone arches. The best way to experience this for yourself, would be up-close-and-personal. So a hike on one of the many trails would be perfect. Here's a couple of the best routes in the area:
Delicate Arch Trail- This hike is of moderate difficulty level, but should be accessible to most people. Starting off with easy rolling hills, the trail then requires a hike up a slickrock slope. So make sure you bring along a hiking pole for this one. Once you've cleared the slope, the route levels out over sandstone domes. Cairns mark the trail to ensure no one gets lost. As you near closer to Delicate Arch, Frame Arch comes into view. Forming a perfect 'frame' around Delicate Arch. So photographers, now's your chance! When you finally come around the corner and reach Delicate Arch, the hikes challenges pay off. As the largest freestanding arch in the National Park, it seems to defy gravity. Make sure to get a selfie underneath!
Fiery Furnace Trail – Though the name may suggest otherwise, this hike still requires you to wrap up warm for Moab, Utah in winter. This hike needs either a permit, or ranger to lead, due to the rare desert environment. The unusual, moderate hike includes narrow passages and rough terrain, providing an unforgettable experience. Taking the ranger led tour is the recommended course of action. Mostly because it'll allow you to see the Fiery Furnace at the correct time. During sunset, densely-packed red pillars of stone reflect the orange sunlight. It looks like flames rising from the ground, giving the spot its name.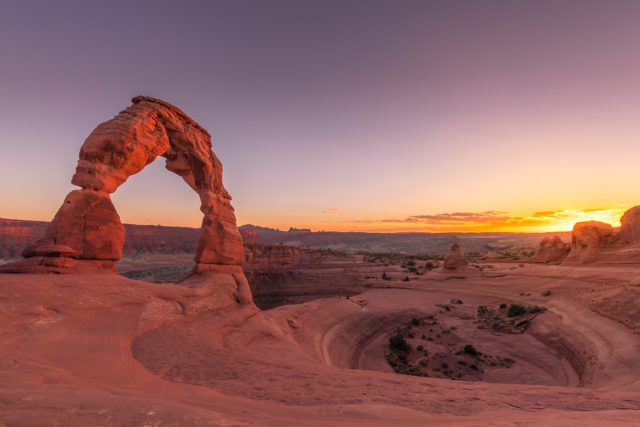 ---
Mountain Biking
Considered one of the worlds premier mountain biking destinations, Moab offers countless locations under amazing backdrops. One of the best, most popular and accessible being the Amasa Back/Cliffhanger Trail.
This ledged route gradually climbs several hundred feet over the 4.8 mile track. Characterised by lots of little steps and obstacles, the trail is a great introductory for Moab's more complex rides. Though, its not just the biking that people flock here for.
Views of Kane Creek, Canyonlands National Park and the Colorado River provide gorgeous vistas for visitors. Once again, make sure you've got your camera at the ready.
---
La Sals Mountain Yurt Excursion
Towering over Moab in seemingly every direction, the La Sals Mountains are a pleasure playground for outdoor enthusiasts. In Moab, Utah in winter, taking advantage of the unique yurts placed here is a brilliant opportunity.
Scattered around the best spots on mountain trails, the Yurts provide night time shelter for those in these high-up climbs. From here, you can see the Arches National Park, the Henry Mountains and Castle Valley. All from the comfort of your own cozy yurt. The most easily accessible of these comfy abodes being the Gold Basin Yurt. Situated at the end of a mile-and-a-half, well groomed trail, the yurt houses eight people nicely. A fully-equipped kitchen, dining area, and wood-burning stove all contribute to the relaxed and homely feel. Plus, a great group game library means evening fun is always on the table.
At night, the clear blue skies transform into black expanses, with spectacular stars in every direction. All around this area are designated dark sky spots, perfect for stargazing. Gazing at the haze of the Milky Way with a hot chocolate outside your yurt is a perfect end to a busy day of hiking.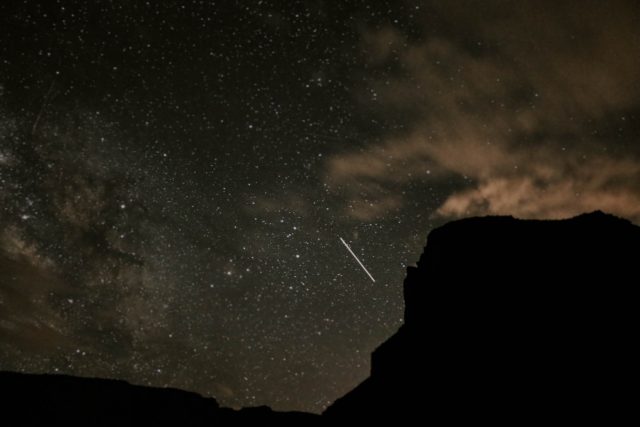 ---
In Moab City
Even though the surrounding areas of the city contain amazing sights and things to do, the city of Moab itself is also a great place to explore. Especially in Utah in the winter, due to the cold weather. For example, the Moab Museum is a good place to start.
Learning the history of the city can make you appreciate where you are even more. Its also a great way to understand the Native American perspective in the area, with exhibits and displays dedicated to telling their story. Here, you can begin to understand the area and the people who inhabit it even more.
Many people say the best way to get to know a city, is through its food. Moab does not disappoint in that regard. Some of the best restaurants and eateries include:
Milt's Stop & Eat – There's nothing better after a long day in the great outdoors than a good meal. So tuck into a burger, fries and milkshake at this classic spot.
Antica Forma – Looking for some top-notch pizza? Look no further. Antica Forma rustles up woodfire cooked pizza in the

Neapolitan

style! A delicious stop on a Moab culinary tour.
Sabaku Sushi – Serving up sushi with a southwestern twist, Sabaku sushi is ideal for those craving a

taste of Asia

on their red rock excursion.
---
There's more to Moab.
On the surface, Moab may seem like a run-of-the-mill, American desert town. Perhaps seen as sleepy, or dusty. But after visiting, a deeper understanding of the city gives a very different impression. Stark, alluring and mysterious. Moab is more nuanced and spirited than it may first appear. Especially during the snow-capped winter months.
So wrap up warm, and embrace the cold. Moab, Utah in winter is a journey just waiting to be started.